Your Mission this Holiday Season: Discuss Climate Change, No Matter How Hard
Before we know it, the holidays will be upon us. While this time is often filled with delicious meals, community, and a time to reflect, it can also be a challenging space of reckoning with family and friends who harbor varying social and political beliefs. From gun control to the midterm election results, there will be no shortage of hot topics as you gather with loved ones.
That means the topic of climate — not just potatoes and pie — could be on the table. As one news article said, "when it comes to global warming, America's political climate may have changed more than the Earth's over the past three decades." That's quite a lot of change.
Just a few weeks ago, headlines were screaming about the new report by the Intergovernmental Panel on Climate Change (IPCC) which is not sugar-coated in the slightest. According to Guardian reporting, the IPCC report lays out that "there is only a dozen years for global warming to be kept to a maximum of 1.5C, beyond which even half a degree will significantly worsen the risks of drought, floods, extreme heat and poverty for hundreds of millions of people." That frightening sentiment isn't exactly new news, but the intensity of the statement causes one to stop and think.
Check out this infographic on the changes in extreme weather events and their impacts to our world: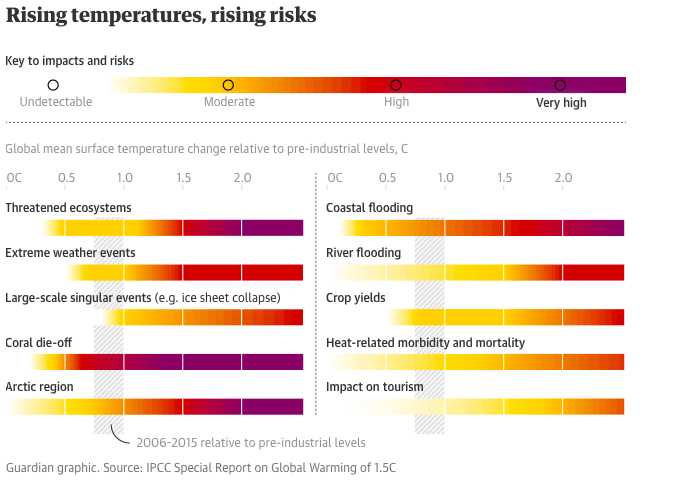 Yet, skepticism about climate change is still rampant, from climate denial rhetoric within the White House, to, perhaps, your family's dinner table. As frustrating as this is, let's breakdown some talking points from the IPCC report and current state of climate action:
We are more sure that greenhouse gas is causing climate change than we are that smoking causes cancer.
While individual consumer and energy choices play a role in climate change, we need change at the industrial and corporate level
States are taking action when the federal government is not

States comprising 35% of the U.S. economy are taking steps to put a price on carbon pollution
In 2017, U.S. energy-related carbon pollution fell to its lowest level in 25 years.
Let's Talk It Out
One of the most important things we can do right now is have the conversations with friends and family. Per the New York Times, "real progress comes from voting, running for office, marching in protest, writing letters, and uncomfortable but respectful conversations with fathers-in-law."
So — the million dollar question — how DO we have that "respectful" conversation? 
For specific tips related to talking about climate change, here are some great resources for those hard conversations: 
We also came across this role-playing game that "thrusts participants into the roles of negotiators at an ersatz United Nations climate summit.
It forces them to make decisions about how to lower greenhouse gas emissions and slow the warming of the Earth and shows them the consequences if they do too little." The World Climate Simulation has been played by over 43,000 people over the last three years, and a new study sampling the responses of more than 2,000 of them found the game left players with a better understanding of climate change science, a greater sense of urgency and hope, and increased motivation to take corrective action. Gamification can work with small or large groups, and is an excellent way to engage people.
While it might not be practical for the dinner table, this method can reach large audiences in a creative and innovative fashion. If you missed our August blog post on gamification, read up here.
Whatever the method, we need to have these conversations. So whether it's your in-laws or uncles over the holidays, co-workers or neighbors, take on the responsibility to better our world and planet by engaging in these difficult conversations about climate change and our futures — the world will thank you.